Against the downward pressure on the world economy, China is is bucking the trend and gaining steam, demonstrating the strong resilience as the world's second largest economy. China's GDP is expected to grow at around 5% in 2023, a rate higher than the expected growth of the world economy and that of emerging markets and developing countries. Strong growth of the Chinese economy will provide greater impetus to the economic recovery of the world.
A world economy in urgent need of new dynamism
The global economy is currently experiencing a confluence of short-term problems and long-term challenges. Some deep-rooted contradictions and structural issues are coming to the fore at an accelerated pace, and unfavorable factors are increasing compared with the past. In the short term, unilateralism and protectionism are apparently on the rise, the negative spillover effects of monetary tightening in major advanced economies are becoming more pronounced, energy and food shortages are not resolved, geopolitical conflicts such as the Ukraine crisis are still ongoing, and major natural disasters are occurring more frequently, bringing the global economy into a more unstable and uncertain situation. In the medium to long term, technological progress still falls short in driving economic growth, the institutional dividend of by new round of reforms in many countries is still quite limited, and population ageing and low fertility rate in some countries have become an alarming trend – the global economy faces many constraints going forward.
Looking ahead to 2023, global economic growth will continue the downward trend in 2022, and some countries and regions may even experience recessions of varying degrees. In January, the International Monetary Fund (IMF) forecasted that the global economy would grow by 2.9% in 2023, contracting by 0.5 percentage point on top of the 2.8% decline in economic growth of the previous year. The IMF has warned that the economies of countries accounting for more than a third of global output could contract in 2023.
The global economic recovery urgently needs a boost. China has long been the world's top contributor to economic growth because it is a sizable developing nation with a long record of economic expansion. China's average contribution to global economic growth between 2013 and 2021 reached 38.6%, 12.9 percentage points higher than that of the Group of Seven (G7) countries put together, according to a World Bank report from October. The world urgently needs China to drive interactions between economies and turn around the downward pressure as the global powerhouse of growth.
China's economic dynamism continues to grow
Following the outbreak of the Covid-19 pandemic, China has coordinated containment measures with economic development, minimized the impact of Covid on livelihoods while ensured the smooth and orderly operation of the economy. By constantly optimizing its Covid measures, China's economic and social order has restored at an accelerated pace with ever-growing dynamism and growth momentums. China's National Bureau of Statistics showed that its economy grew by 3.0% in 2022 compared to the previous year, with a GDP exceeding RMB 121 trillion and per capita GDP hitting RMB 85,698. Meanwhile, per capita disposable income of Chinese residents reached RMB 36,883, a nominal growth of 5.0% compared to the previous year. China's high-quality economic development has become more solid with a more promising prospect.
Entering 2023, thanks to a package of policy measures, China's economy is picking up with growing market confidence and strong signs of recovery, which highlighted the endogenous resilience of the Chinese economy. China's National Bureau of Statistics showed that in February 2023, PMI rebounded beyond expectations to 52.6%, the highest level since April 2012; the non-manufacturing business activity index and the comprehensive PMI output index reached 56.3% and 56.4% respectively. All three indicators have been in the expansionary range for two consecutive months and exceeded market expectations, showing that the Chinese economy is picking up across the board. With regards to market expectations, the production and operation activity expectation index was 57.5% in February, up 1.9 percentage points from the previous month, and reaching a new high in the past 12 months, and all 21 industries surveyed are in the booming range. This indicates that the triple pressure of contracting demand, supply shocks and weakening expectations in China's economy has improved significantly, and business confidence has continued its rising trend.
In 2023, these policies will be continued with targeted focus and greater synergy. The proactive fiscal policy will be more effective, and the prudent monetary policy will become more precise. Industrial policies will focus equally on development and security; policy on the sci-tech sector will aim at greater independence and resilience. Social policies will hold the bottom line of livelihood and be positioned towards forming a synergy of high-quality development. China will also expand domestic demand, accelerate the construction of a modern industrial system, support both SOEs and the private sector, attract and utilize foreign investment with greater vigor, mitigate major economic and financial risks, stabilize food production and promote rural revitalization, seek a green transformation of the development approach, and improve basic livelihoods and upgrade social services, and constantly cultivate growth momentums to tap the potential of its economy.
China's economic growth benefits the world
As a major global economy with a gigantic domestic market, China will continue to open up its economy to the outside world and embrace the new development paradigm of "dual-circulation", which takes the domestic market as the mainstay while the domestic and overseas markets reinforce each other. China's development will create new global opportunities and inject confidence and momentum into world economic recovery.
China continues to expand imports and outward investment and share development opportunities with the rest of the world. In the global path to modernization, China has created the world's largest middle-income group, labor market and consumption potential, making it the most important powerhouse for global development and cooperation. With a population of more than 1.4 billion and a middle class of over 400 million, China imports some $2.5 trillion worth of goods and services each year. China's National Bureau of Statistics shows that its imports of goods exceeded 18.1 trillion yuan in 2022, an increase of 4.3% year on year. During the same period, China's outward non-financial direct investment amounted to 785.9 billion yuan, up 7.2% over the previous year. The launch of the China International Import Expo (CIIE) has highlighted its willingness to share market opportunities with the world for shared benefits.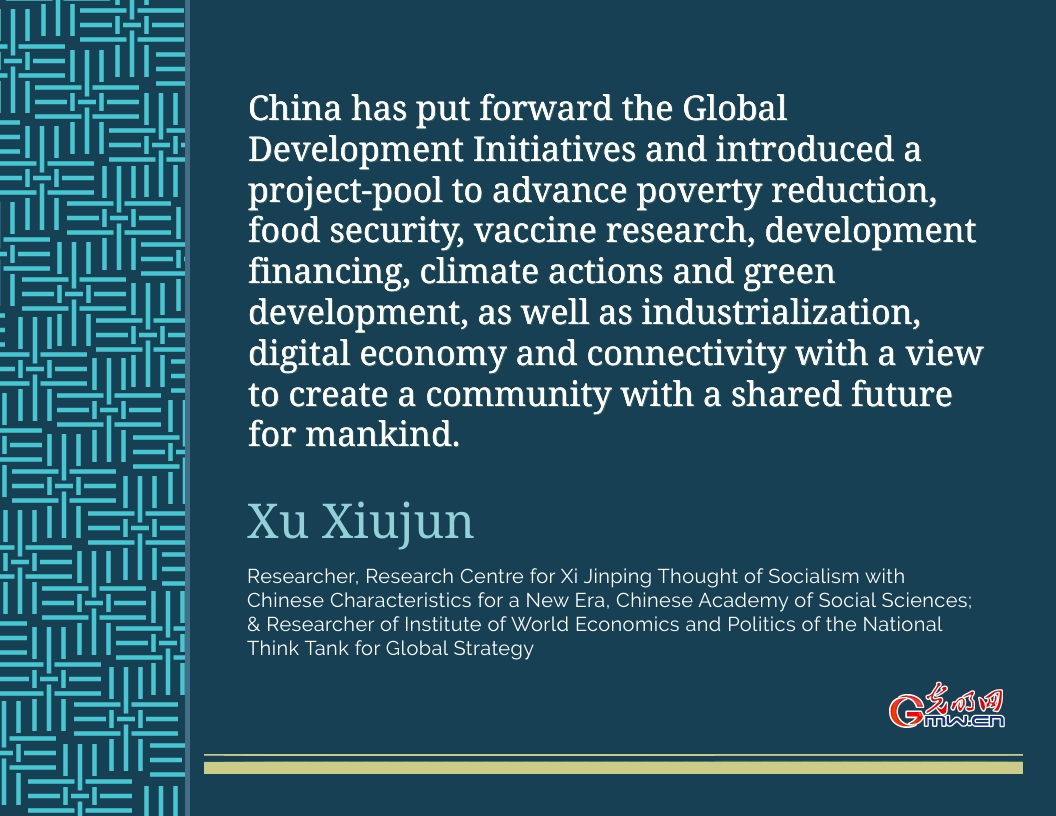 Through the Belt and Road Initiative (BRI) and the Global Development Initiative (GDI), China continues to spread the momentum of growth around the world. Its economic cooperation with countries along the Belt and Road has gained strong momentum and lifted the economies of the countries concerned. According to data from China's Ministry of Commerce, between 2013 and 2022, China's trade in goods with countries along the Belt and Road had expanded from $1.04 trillion to $2.07 trillion, with an average annual growth rate of 8 percent; two-way investment with Belt and Road countries had accumulated to over $270 billion. As of end 2022, Chinese enterprises had invested a total of $57.13 billion in economic and trade cooperation zones overseas along the BRI route, creating 421,000 local jobs to countries concerned. China has also put forward the Global Development Initiatives and introduced a project-pool to advance poverty reduction, food security, vaccine research, development financing, climate actions and green development, as well as industrialization, digital economy and connectivity with a view to create a community with a shared future for mankind.
(Contributed by Xu Xiujun, Researcher, Research Centre for Xi Jinping Thought of Socialism with Chinese Characteristics for a New Era, Chinese Academy of Social Sciences; and Researcher of Institute of World Economics and Politics of the National Think Tank for Global Strategy)
(作者:汽車電瓶)